WTA 125k Bol Open 2017.
June 5 - 11, 2017.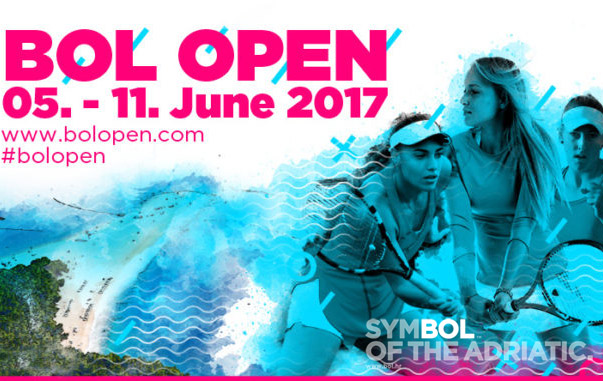 WTA 125K Series Bol Open 2017 is the second edition of women's tennis tournament that takes place in beautiful, picturesque Bol town, on the island of Brač, from June 5 - 11, (second week of Roland Garros).
Bol exclusively entered WTA calendar in 2016 (along with US San Antonio and New York) and will be the only WTA tournament in Southeastern Europe. WTA 125K Series tournament in Bol is only one of two WTA tournaments which is organized on the island and that makes it even more special! However, Bol is already recognized as tennis destination as it previously hosted WTA tournament which was called "Croatian Bol Ladies Open" from 1991. to 2003.
The tournament's first edition was held in late April 1991, and then again every year from 1996 to 2003. Through years, tournament was visited by many famous tennis stars such as Anna Kournikova, Amelie Mauresmo, Elena Dementieva, Kim Clijsters, Iva Majoli, Katarina Srebotnik, Sandrine Testud, Patty Schnyder, Vera Zvonareva etc. After 13 years, WTA tournament is back in Bol. The moment couldn't be better! Croatian women tennis never had so many young, talented and upcoming players such as Ana Konjuh, Donna Vekic, Jana Fett, Tena Lukas...
PAST CHAMPIONS
SINGLES
1991 | Sandra Cecchini (ITA) – Magdalena Maleeva (BUL) | 6–4, 3–6, 7–5
1995 | Sabine Appelmans (BEL) – Silke Meier (GER) | 6–4, 6–3
1996 | Gloria Pizzichini (ITA) – Silvija Talaja (CRO) | 6–0, 6–2
1997 | Mirjana Lučić (CRO) – Corina Morariu (USA) | 7–5, 6–7, 7–6
1998 | Mirjana Lučić (CRO) – Corina Morariu (USA) | 6–2, 6–4
1999 | Corina Morariu (USA) – Julie Halard (FRA) | 6–2, 6–0
2000 | Tina Pisnik (SLO) – Amélie Mauresmo (FRA) | 7–6, 7–6
2001 | Ángeles Montolio (ARG) – Mariana Díaz O. (SPA) | 3–6, 6–2, 6–4
2002 | Åsa Svensson (SWE) – Iva Majoli (CRO) | 6–3, 4–6, 6–1
2003 | Vera Zvonareva (RUS) – Conchita Martínez G. (SPA) | 6–1, 6–3
2016 | Mandy Minella (LUX) – Polona Hercog (SLO) | 6-2, 6-3
DOUBLES
1991 | Laura Golarsa (ITA) and Magdalena Maleeva (BUL)
1995 | Mercedes Paz (ARG) and Rene Simpson (CAN)
1996 | Laura Montalvo (ARG) and Paola Suárez (ARG)
1997 | Laura Montalvo (ARG) and Henrieta Nagyová (SVK)
1998 | Laura Montalvo (ARG) and Paola Suárez (ARG)
1999 | Jelena Kostanić (CRO) and Michaela Paštiková (CZH)
2000 | Julie Halard (FRA) and Corina Morariu (USA)
2001 | María Martínez (SAP) and Anabel Medina (SPA)
2002 | Tathiana Garbin (ITA) and Angelique Widjaja (IND)
2003 | Petra Mandula (HUN) and Patricia Wartusch (AUS)
2016 | Petra Martić (CRO) and Xenia Knoll (SUI)