The Bol Tourist Board Awarded Distinguished International Award for Their Tourism Film "Bol&Culture"
23.05.2022.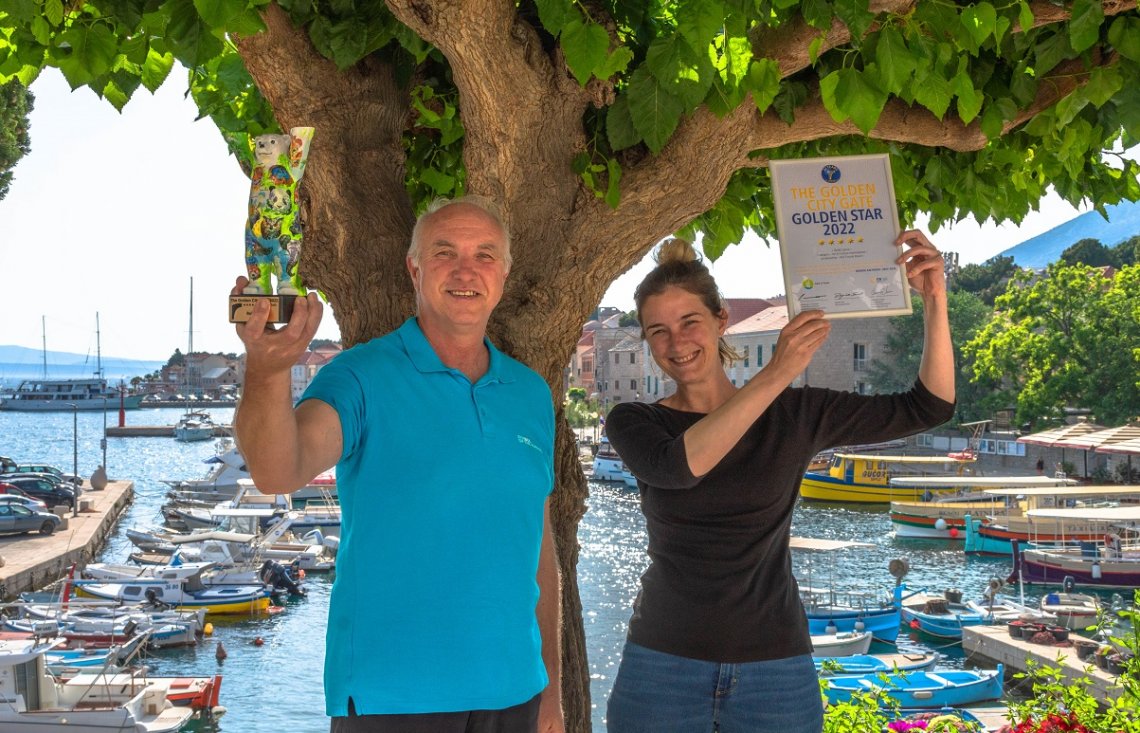 Everybody knows that the sun and the sea are not enough for memorable summer holidays anymore. The Town of Bol on the Island of Brač, a famous Croatian tourist destination, is especially aware of that. This picturesque town has a rich and versatile offer irresistible for international and domestic visitors. Apart from the cycling tourism and many other sports activities and one of the most beautiful beaches in the world, Golden Horn, the citizens of Bol also take pride in their rich cultural heritage and are dedicated to preserving it. The value of this heritage has also been recognized recently at a prestigious international film, print and multimedia competition, The Golden City Gate 2022, held during the famous international tourism fair ITB Berlin. Amongst a selection of tourism films from all over the world, 45 professional judges chose "Bol&Culture", as the winner (The Golden Bear Award) in the "Art & Culture" category.
The basis of evaluation criteria followed by the jury was creativity, storytelling, emotional effect, and information value communicated in the film. The film was made in cooperation with the DOKU FILMS production team, Mihaela Reščić, the producer, and the screen-wright, Hana Klain from the Klain PR Agency. Tourist fairs are an excellent opportunity for the global promotion of natural beauties and the rich cultural heritage of Croatia. Every year, this prestigious event attracts more and more visitors and tourism professionals seeking to learn about famous and beautiful tourist destinations, and Croatia being one of them.
The awarded film is an omnibus that brings together three stories: about Zmajeva špilja (The Dragon's Cave), the Dominican monastery, and the Branislav Dešković Art Gallery. Zmajeva špilja (The Dragon's Cave) is a place of ultimate peace. Its walls are decorated with a fascinating and unusual set of reliefs believed to be sculpted by 15-century friars who expressed their faith, preaching, and asceticism through them. A 15-century Dominican monastery hides a collection of valuable works of art dating back to the 16th to 19th centuries. Archaeological finds, liturgical items, many rare manuscripts, and a numismatic collection with samples of rare antique coins are just a part of this valuable display. The most attractive piece of artwork in this collection is an altar painting Madonna with a Child and Saints by Tintoretto. A visit to the Branislav Dešković Art Gallery, located in the Bol centre, is an opportunity to experience Brač through the eyes of famous Croatian painters. This Renaissance-baroque palace is the home of hundreds of artworks by Croatian painters and sculptors.
"I am really happy to see that more and more visitors show interest in our rich cultural heritage. The art is eternal, and it adds unmeasurable value to Bol. We are sincerely proud to offer this authentic treasure dating back to distant history. Like all the awards we have received so far (and there were many of them), this is an important recognition of our efforts and the quality of our projects that further strengthen our motivation to be even more dedicated to our work. At the same time, I am proud of 'the special recognition of the presentation of the excellence of the Bol tourist offer I received from international travel journalists last year," added Mr. Markito Marinković, Bol Tourist Board director.
Bol is actively preparing for the upcoming season. Almost all the hotels and resorts are open, and around 1.000 visitors are already spending their holidays in this town. We aim to accomplish 90% of the 2019 turnover. Most visitors are from Austria, Germany, Slovenia, and Croatia - visitors arriving here by car. We hope that this will change and that more guests from overseas will visit us. We have 14 ferry lines and 4 catamaran lines, all from Split, during the summer. We also have direct flights Zagreb-Bol throughout the season until October. We expect charter flights from Graz and Wien to start from May and new lines from Bratislava and Bolzano.