This gallery of small format is of great importance
16.03.2022.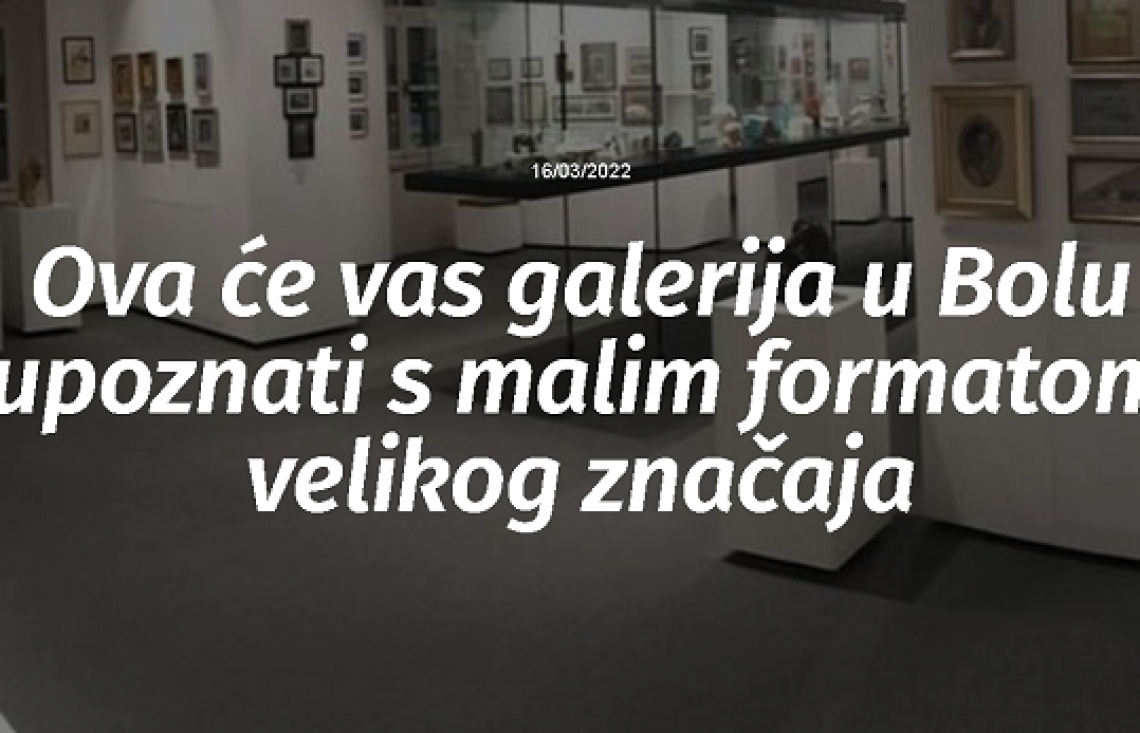 In Bol on island of Brač, in the former Croatian reading room, you will find a real pearl - Small format gallery. The works you can admire in this unique and rich gallery are donated by a well-known businessman and former general manager of Dugorat Dalmatia Ivica Karninčić - Koloč.
From the earliest days, art has been a hobby and obsession for this atypical man. He first started collecting small paintings because they were the cheapest, and only such could he afford as a student.
Out of love for art, in the yard of his family home in Bol ten years he organized an art colony LOBOL which was attended by artists from all over Croatia. In those ten years, about 140 artists passed through the court. Because of all this and because of his great love for art, Karninčić wanted to leave something valuable to his place, something in permanent ownership, which will attract occasional travelers who will come to Bol.
350 works of art by 260 Croatian painters and sculptors which Karninčić collected during the 60 years of his working life show a truly representative cross-section of Croatian modern and contemporary art.
The small format gallery moved to the first floor of the former First Croatian Reading Room, which was opened in 1897 thanks to Petar Nisete, who for this purpose donated a beautiful house on the coast in the middle of the local port. The Nižetićs were originally a Brač nobility and among those who, according to the customs of the Renaissance, Latinized their surname in - Niseteo.
The exhibition space located on the waterfront in the center of town is now owned by the Agricultural Cooperative, and is designed by the Zadar studio for architecture and design "PIN". The curiosity is - and worthy of praise - that the managers of the local Agricultural Cooperative decided to donate one floor of their building to art and thus enrich the cultural and tourist offer. Bola. In addition, they invested a significant amount of money in its renovation according to the highest gallery standards.
The space is designed in a truly suggestive ambience - existing offices have been removed to create an open space whose walls dramatically meander with niches and recesses, while the center is dominated by an impressive five-meter glass display case hovering through the center of the space. The profession agrees that this is one of the most beautiful gallery spaces in Croatia, and the project was nominated for the annual award of the Association of Croatian Architects.
Among the exhibited works of art are paintings, sculptures, stained glass, as well as a collection of three hundred art books - encyclopedias, monographs and catalogs. The collection includes the most important masters from Bukovac, Vidović, Račko, Tartaglija, Šimunović, Šebalj, Kaštelančić, Masla, Murtić, Ružić, to Šime Perić, Ivančić, Džamonja, Marija Ujević-Galetović, Dimitrijević, Žuvela, Sokić, Novak, Milan Pać , Ana Opalić and others. It is a series of great small works that are a mirror of the very mother of Croatian modern and contemporary art. These are works that do not resemble others, perhaps small in format, but extremely large in spirit, meaning and native talents.
Photo: Gallery of small formats, Author: Marko Mihaljević