Do you know what kitesurfing is and why you should try it in Bol?
21.03.2022.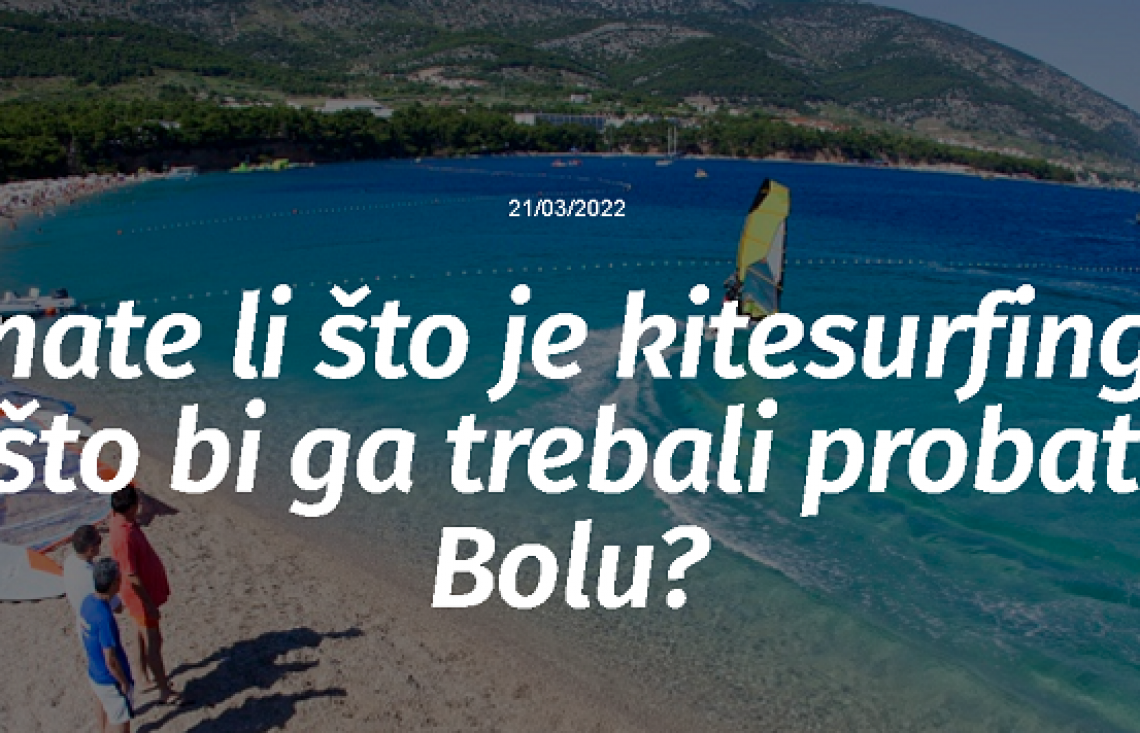 Kitesurfing is a newer extreme water sport in which the rider - a kite - rides a kite that serves as a sail to surf the wind with the help of wind power. This is one of the fastest growing sports on the planet, and attracts lovers of all ages, regardless of gender.
It's simple and you don't need to be in top shape. Strength does not play a major role here, but the most important thing is to understand the very principle of dragon control.
You don't even need prior knowledge of wind, sea or conditions - you'll learn it all. Experienced instructors say that you can enroll in a kitesurfing school from the age of 14 to 50, and their experience shows that in 90% of cases 10 hours kitesurfing course enough for new kiters to master this skill.
Kitesurfing originated as a combination of several sports: water skiing, windsurfing, surfing and paragliding, the closest of which is wakeboarding, where the kite has completely replaced the speedboat that pulls you.
The dragon has a large area, usually 10-12 square meters, and is attached to the driver over a trapeze, which is usually worn around the waist and has a connecting hook. The driver has a control lever that is connected to the kite via a 20 to 25 meter long rope system. Apart from the fact that the kite can be directed left and right, thus regulating the direction of movement, most modern kites used in kitesurfing also have depower the function by which the driver influences the inclination of the kite in relation to the wind, and thus the level of traction force generated by the kite.
The Croatian coast offers such conditions that you can enjoy kitesurfing for up to 150 days, and experienced kiters single out three locations that offer the bestbolis the conditions for kitesurfing with us - Ždrijac beach in Nin, the mouth of the Neretva and Viganj rivers.
Kitesurfing u Bolu
Although not in the TOP 3 locations, Bol on the island of Brač it is ideal for kitesurfing due to the constant thermal wind of the mistral which blows at a speed of 15 to 25 knots in the direction of the coast. There you will also find a special beach for kitesurfers, as well as a kitesurfing school and a rescue service. If you are lucky enough to stay in Bol in the off-season, you can launch and land your dragon on the Golden Horn itself. This is not allowed in the peak season. Even then you can kite around the Golden Horn, but you will launch and land about two kilometers away, in windsurfing center Yellow Cat next to which is a small pebble beach.
Popular beach Zlatni rat be full of swimmers who follow the events on the water, so this location is ideal for showing often tricks and jumps. The mistral here is enhanced by the Venturi effect, as it blows through the canal between Brač and Hvar. The wind blows along the coast, through the channel towards the open sea, so this place is not the most suitable for beginners and inexperienced kiters. But there is a rescue service that makes sure none of the kiters get into trouble