WTA Bol Open 2017. announced
Press conference Feb 15th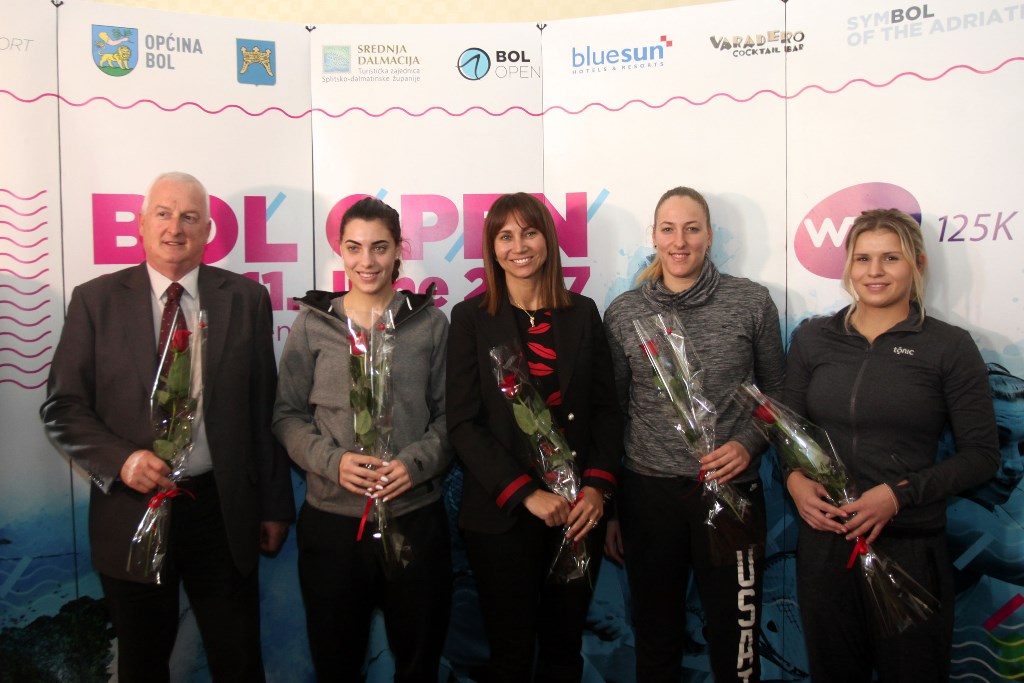 WTA 125K Series Bol Open will take place from June 5th till June 11th 2017, as was announced at the press conference in Zagreb. Bol Open was organized last year after 13-year pause and it attracted many tennis fans and was well accepted by the locals who will all enjoy the top-notch professional women's tennis again in Bol this year. In an exhibition match, 20 years from winning Roland Garros, Iva Majoli will play against Martina Hingis.
"For me, the greatest recognition and encouragement to organize even better tournament is the satisfaction of the tennis players who participated last year and were full of praise for our tournament, accommodation, food courts and beautiful Bol which delighted them. The official WTA supervisor awarded WTA Bol Open with the highest score for the overall impression among all tournaments in this category in the world. Also, locals accepted the tournament very well and I wish for the local community to achieve event greater benefit from this sports event.For that reason, I have decided to donate the entire ticket sales profit to the volunteer fire department in Bol for their new facility, much-needed for the normal functioning of this association. We all know how important it is, especially in Dalmatia, to have the best equipped fire brigades as, unfortunately, they have to work in extreme conditions especially during the summer season. I hope that our example will encourage others to become aware of the importance and necessity of helping Croatian fire departments. "- said Feliks Lukas, the tournament director.
Mayor of Bol, Mr. Tihomir Marinkovic said at this occasion: "Last year, Bol confirmed to be an ideal place for tennis events and in collaboration with the organizers, I wish, in the years to come, to position this tournament as the most prestigious tennis event in this part of Europe."
Furthermore, the tournament director Mr. Lukas emphasized the significant role Iva Majoli played in the success of WTA Bol Open which has become recognizable among local and international audience after only first edition. Majoli has also put a great effort in the development of the Croatian women's tennis in general. Our best women tennis player and Fed Cup captain played an exhibition match against Arantxa Sanchez Vicario last year in Bol where she won 6:4: "This year, after exactly 20 years, my rival on the final day of the WTA Bol Open will be Martina Hingis whom I won in the Roland Garros finals in 1997 "- said Iva Majoli,hoping to win this time, as well.
Our current top ranked tennis player Ana Konjuh also announced to play in Bol again. Last year she gave up match due to the back pain in a semi-final duel against Luxembourgish Mandy Minelli who won the first title of the WTA tournament in Bol. Anna announced at the conference: "I'm very sorry I couldn't play a semi-final match till the end due to the injury. This year I hope to be in good health, I feel very well and I believe that I will play the Bol Open final match if I do not stay to the second week at Roland Garros." – said Ana.
WTA 125 K Series Bol Open prize fund is $ 125,000 and the preliminary list of players will be known in mid-May. In 2017 an exclusive license for the WTA tournament of 125K Series, for now, have got China, Thailand, Hawaii, the French Limoges and Bol. WTA Bol Open, the only WTA tournament in South Eastern Europe, emphasizes the importance of tennis as one of the most respected women's sport, but also brings the power of woman, their persistence and dedication to achieve top results into focus.
Last year's experience convinces that we will have another top sport event where tennis players from all around the world will show their excellent play. Also, last year's players party on mega yacht Katina and performances of international music and dance stars were the most talked about topic for days. Who will come to Bol this year and make a great party, we will find out within few months.